So as we all know Rihanna has been keeping things pretty low key as of late. Because of the tragic situation that took place back in Feburary she has pretty much stayed out the public eye(or tried to at least). However monday nite she attended the Met's Costume Institute Gala in New York City. It was her 1st OFFICIAL appearance since Clive Davis's Pre-Grammy Party. And boy oh boy did she look AMAZING!!!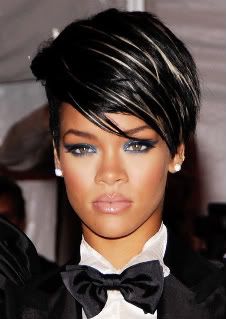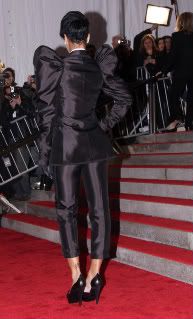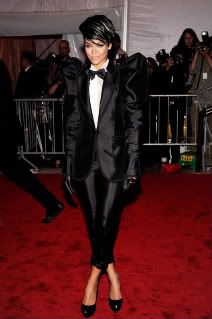 Smokey make up
A few platinum blonde streaks
White & Black Dolce & Gabbana tuxedo
Yves saint Laurent black heels
If you mix all this together you get a SICKENING combination! It was Reported that Rihanna was the last celeb to walk the red carpet and did not speak to ANY paparazzi.
Yesterday Rihanna was spotted leaving her Hotel in NYC heading out to a lunch with her best friend Melissa. She was seen wearing a very unique leather jacket, with cut-off denin shorts, fishnet style boots, and earrings that connected together making a necklace...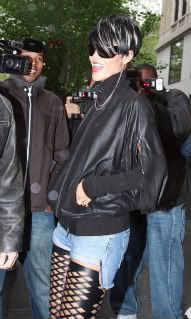 Im not feeling this look so much...
Later on that nite Rihanna decided to go out and did so wearing yellow leather jacket covered in rhinestones around the collar and cuffs, a black tank top with black jeans and boots: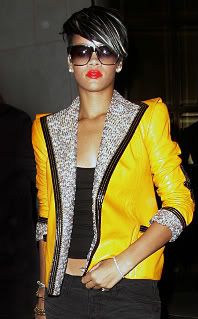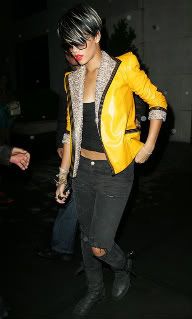 This is a a make up from the not so hot outfit she had on earlier in the day. For those of you who may be unaware Rihanna is currently working on her 4th album and it is expected to drop at the end of the year!