Beyoncé has been busy as a bee lately so Im going to fill you in on the latest. Yesterday Beyoncé landed in Paris, France for her "I Am..." tour. she was seen doing a little bit of shopping in her down time: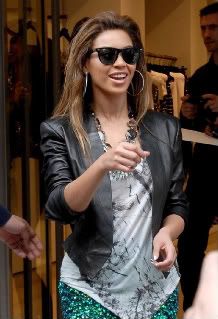 She looked nice in whatever the hell it is she was wearing, she could rock a potatoe sack and still look flawless to me...
Today was the day of the show. Beyoncé was spotted leaving her hotel along with Mom Tina, Sister Solange, and nephew Daniel: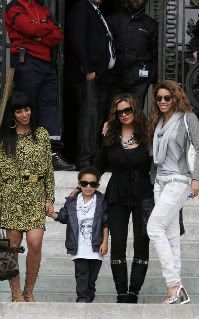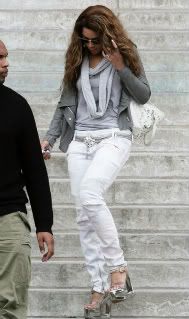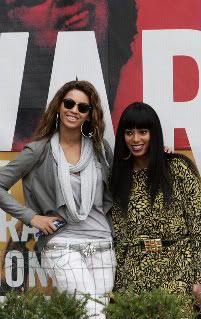 Solange was in Paris to do a show of her own, but notified her fans via Twitter that it was cancelled but she'll be doing another gig in the city of love soon!
Tonite Beyoncé did a sold-out show at Bercy in Paris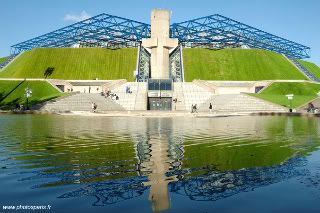 It was said that Tina and Solange were there in support of Bee. Thierry Mugler who designed Beyoncés costumes was in the audience aswell!
Beyoncé can currently be seen gracing the covers of Marie Claire and the German Glamour Magazines:
If that isnt enough of a Beyoncé fix for you, here is a little bit more:
-Beyoncé will be shooting her Live DVD "I AM...YOURS" in Las Vegas July 30th-August 2nd. Here is a tidbit from the official press release"The "I AM...YOURS" show will be staged exclusively for the intimate venue at Encore and promises to showcase the artist like never before. Beyoncé's extraordinary, all-female band will join her to perform musical hits, classics and surprises. As part of this occasion, Beyoncé's "I AM...YOURS" performances will be recorded and produced as an exclusive DVD compilation."
for the full press release go here: http://news.prnewswire.com/DisplayReleaseContent.aspx?ACCT=104&STORY=/www/story/05-05-2009/0005019982&EDATE=
-"Ego" has been serviced to Urban & Rhythmic Radio (5/1) and impacts on 5/19.
-"Sweet Dreams" (instead of "Broken Hearted Girl") ships to Rhythmic & Top 40 (5/11) and impacts 6/2.
-Wal-Mart Exclusive release of I AM...Sasha Fierce (Video Anthology & The Remixes) in stores 6/16/09.
That's all the Beyoncé info I have for now, once I get more Ill post it!